Kings! Wouldn't you agree It's time we made some reveals!?
It's high time we unveil that "Jump King Online" has changed name to "Jump King Quest"! Read on to understand why and see lots of game details… Perhaps even a look at the current in-game graphics! ? Here we go!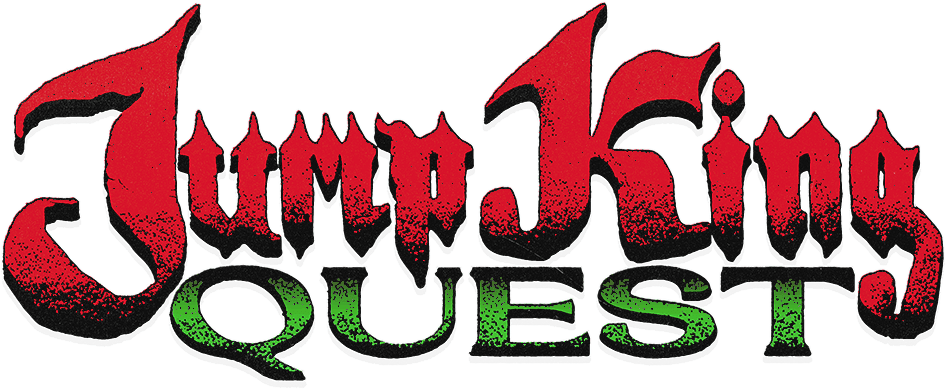 Jump King Quest:
Throughout the development, the direction and focus has become more and more clear – which we thought was better reflected with the title "Jump King Quest"!
With that, it's time we talk a bit about what the game is actually about! This time we want to expand on the immersion and exploration, and emphasize RPG elements! Thus materialized the idea of Jump King Quest: a True Adventure of Challenges and Extreme Tension!
Of course, the multiplayer will bring a whole new dimension to the game!
IN OUR NEW WORLD, MEN WILL JUMP FOR REASONS THEY DON'T UNDERSTAND! THE FALLEN WILL PILE IN THE BOG, BUT THE STRONG WILL ASCEND ABOVE THE RABBLE!
Don't worry – we will find a way to fit "babe" into the title at a later date!
Multiplayer
Let's just say you'll bump into both friends and foes in the world of Jump King Quest! But how should you know who is trustworthy? Well, that will be for you to find out… We want to let you join other players dynamically as you explore the game-world, so you could run into anyone!
We're doing our utmost to make sure your character feels the same on different connections – and importantly – that other player's connection quality won't affect your gameplay. Of course, we are thinking about ways you can play with your best friends!
For some more technical stuff; we have dropped peer-to-peer in favour of a real server hosting solution which we are currently looking into, we also currently have an unlocked framerate (FPS). Super-Smooth jumping ahead!
Graphics
We heard the Jump King players are quite fond of their pixels, so due to popular demand we decided to make some changes…
All jokes aside, what you are seeing builds on ideas that have been in the works for quite some time!
This new adventure combines pixel-graphics for characters and certain other objects, and realistic visuals for the environments. This ties together the artstyle with the story and themes that underpin the entirety of Jump King Quest… You'll find out exactly how in time!
Keep in mind this is a work in progress, we always take our time to get the Visibility and Communication right when creating the graphics – we know it's important when you have as much on the line as in Jump King!
Lastly, we have loads of characters and story ideas that we want to bring to Jump King Quest – so look forward to new lovable NPCs (heh heh heh…) and an even more compelling story than ever before!

We are honestly extremely excited to show you more, rest assured there is a lot of cool stuff growing in the Nexile HQ!
/Team Nexile
What do you think about the name and style, what would you like to see more of? Let us know in the comments!